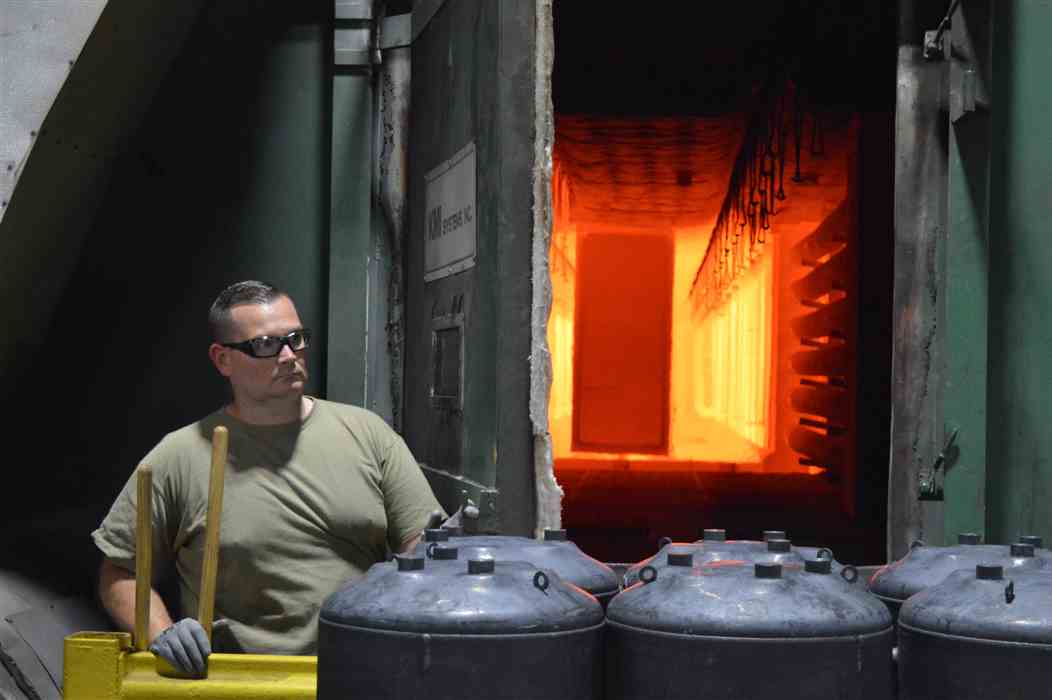 THE 
COMPANY
AST/ACME has over 50 years of experience as specialty applicators of virtually any type of protective coating, including Teflon™ industrial coatings, paint and injection molding release coatings, and TGIC powder coatings. Within their 80,000 square foot facilities, AST fights corrosion and abrasion with time-proven materials. AST/ACME is the exclusive MIL-spec painting provider for the refurbishment of the Phalanx Weapons Program. AST's complete range of services is extended to both the manufacturer and the end user.
THE 
CHALLENGE
AST received a new application opportunity from an existing customer that required an increased need for production that their current industrial oven was not equipped to handle. The new opportunity required a large capacity oven with highly intuitive controller programming for specific ramp, soak, and cure times. The oven also had to have the ability to record data to ensure accuracy and performance. AST could not take on the new opportunity and were limited from taking on future opportunities without a suitable industrial oven.
LARGE CAPACITY, HIGHLY INTUITIVE PRECISION QUINCY CUSTOM OVEN
THE 
SOLUTION
After careful evaluation, AST decided to have Precision Quincy Ovens design, build, and install a custom oven specific to AST's new processing needs. According to Wayne Cundiff, VP of Sales at AST, "Oven performance can be seriously degraded by poor design and installation. Therefore, it was vital to give great consideration to selecting a company for oven design and installation. [PrecisionQuincy] does it all with an onsite, turnkey installation done by their own trained and certified experts. They ensured our oven was installed correctly and performs optimally." Once the oven was delivered, the Precision Quincy staff arrived to manage unloading, placement, electric, gas, ducting, installation, operation, adjustments, and training.
Precision Quincy's oven enabled AST to change profiles quickly and easily with very low user error. The oven's extremely consistent airflow and uniformity had an enormous impact on AST's need for producing consistent, quality parts. Precision Quincy's turnkey installation included oven programming, tying the oven into AST's network for easy monitoring, and having experts available for extensive technical training and support.
THE
RESULTS
AST invested money in a custom Precision Quincy oven to grow and develop their business aggressively. AST can now meet their new application needs and double their curing capacity. In terms of future growth, AST is now able to coat extremely large substrates, opening up new application opportunities with thier 24 foot long oven measuring 12×12 feet. A ripple effect of AST's investment is that their employee labor is better utilized. Oven profiles are easily set, changed, and monitored, allowing employees to multitask smoothly and without concern over improper cure. In terms of future growth, AST now has the ability to coat extremely large substrates, opening up new application opportunities. The oven's new monitoring technology allows AST to catch and fix any problems as they arise, saving time and money by decreasing improper cure and wasted products. The oven's thermocouples allow AST to record detailed data, enabling AST to guarantee customers the cure process was done correctly.
Ken Greis, Teflon™ coatings Technical Expert at The Chemours Company says, "This is possibly the best oven that I have ever monitored during the course of my career with regards to oven set points versus oven air temperature versus metal temperature." AST has been able to score a big win by reducing bake time, saving expenses, and energy thanks to their investment in Precision Quincy Ovens.
Ensures accuracy and performance standards are met regularly and can be examined as needed
APPLICATION
NEEDS
The new custom oven meets all AST's complicated application needs with specific ramp, soak, and cure times
NEW
CAPABILITY
With the new custom PQ Oven AST can now coat extremely large substrates allowing for new application opportunities
With the new system in place catching and fixing any problems as they arise is easy saving time and money by eliminating improper cure and wasted products
THE 
FUTURE
AST strives for superior equipment quality and performance along with a commitment to customer service. The world is changing all around. To continue to thrive as a business over the next decade and beyond, AST must look ahead, understand the trends that will shape their business in the future, and move swiftly to prepare for what's to come. Partnering with Precision Quincy for a new custom, state-of-the-art, industrial oven creates a long-term destination for AST's business and provides them with a roadmap for moving forward, achieving quality and growth in the industrial coating industry.
CONTACT
AST/ACME OR PQ OVENS
AST/ACME | 728 South 13th Street | Louisville, KY 40210
502-583-8355 | info@ASTACME.com | astacme.com
Precision Quincy Ovens | 483 Gardner Street | South Beloit, IL 61080
302-602-8738 | sales@pqovens.com | pqovens.com